JSC PROPERTIES PENTHOUSE - DES MOINES, IOWA
This IDEA award winner features reclaimed weathered gray wood wall planks from anthology woods.
Neumann Monson Architects, with offices in Iowa City & Des Moines, Iowa, recently completed this 2016 IDEA - Awards winning penthouse space for JSC Properties in Des Moines. We love Neumann Monson Architects for their commitment to sustainability and the beautiful designs they create. The design team chose to utilize Grey Medley wood wall paneling from Anthology Woods for textured & weathered gray feature wall accents in the suite.
From Neumann Monson: Situated atop a 5-story mixed-use building, this space doubles as a functioning private office (daily) and as the setting for sizable private gatherings (intermittently). Three sides, clad fulling in glass, take advantage of downtown views. At each end glass doors open to a wraparound roof terrace. The result is visual & social connectivity that flows inside & out.
Contemporary design with elements of "old wood" reclaimed for another life is one of our favorite looks....from barn board to board room!! Grey Medley cladding is reclaimed from equestrian facilities in the eastern US, and available in solid tongue & groove milled planks, precision re-milled for a clean & refined installation.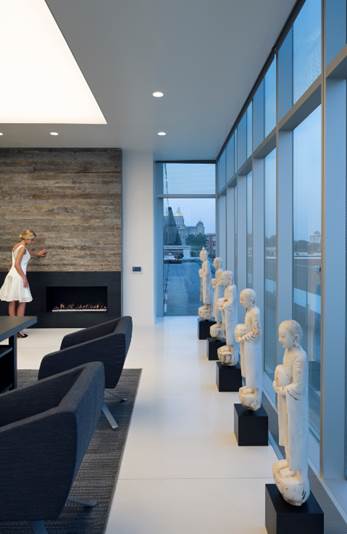 featured anthology woods product: