Whole Foods MArket FORT Myers: Bidwell Walnut wall paneling
Whole Foods in fort myers, Florida, installed anthology woods bidwell walnut reclaimed wood paneling to their specialty market's regionally-inspired interior design.
Reclaimed Bidwell Walnut ThinClad wall paneling arches high above areas in the supermarket, creating a warm and inviting shopping experience for customers within the expansive 45,000 square foot space. The deep grain and diverse range of rich colors of the Walnut add depth to the space and create textural interest as paneling, amidst fresh-cut flower displays and behind customer service desks. Our unique ThinClad paneling was a perfect choice as an appealing and economical interior cladding that uses fewer wood resources while delivering a clean finished look.
In addition to the 2,500 square feet of ThinClad Walnut Paneling, Anthology Woods provided custom-made Walnut shingles to enhance walls on the perimeter of the store. They are reminiscent of a neighborhood grocer, making the large space feel more intimate and tailored. Our Bidwell Walnut adds to the natural feel of the interior design, which complements the organic and regional products and overall ethos of the specialty market. This exciting project highlights the abundance of useful products derived from walnut trees, including our Walnut paneling as well as the delicious walnuts found in the bulk bins of Whole Foods Market!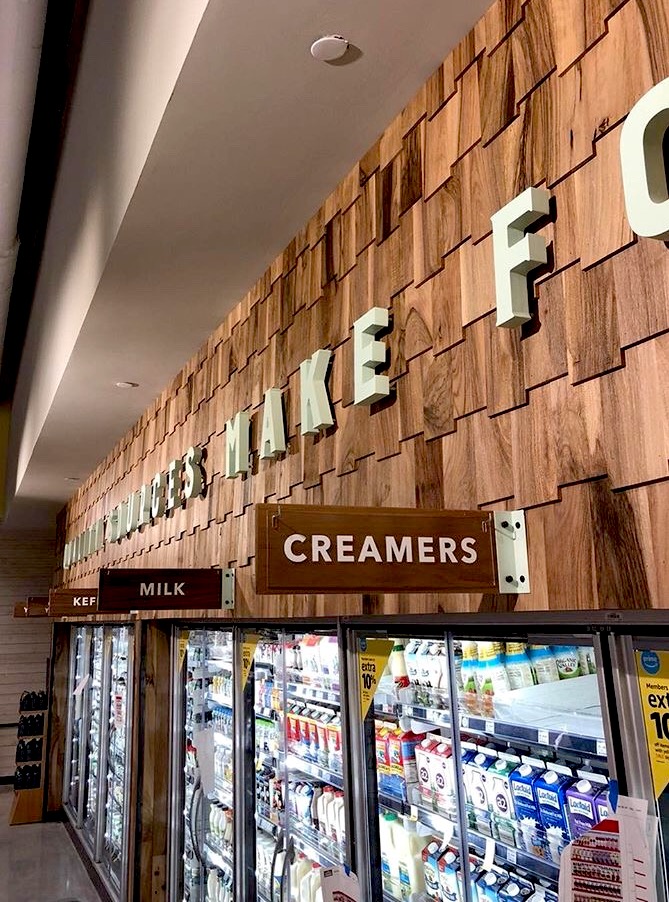 Featured Anthology Woods Product: